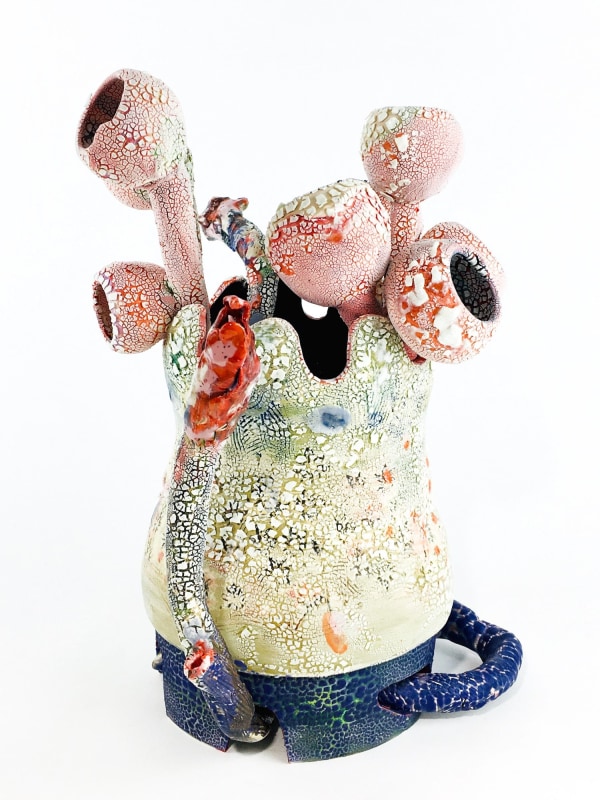 River Valley Arts Collective and the Al Held Foundation are pleased to announce an exhibition of ceramic sculptures by Irja Bodén entitled To Dress a Ptarmigan. The works in this exhibition all spring from the artist's relationship with, and perspectives on, her home town of Kiruna, Sweden in the Lapland province of the arctic circle. A mining town that was founded in1900, its recent history and topography have been shaped by the extraction of iron ore and it is currently in the process of relocating away from the encroaching tunnels that are threatening its stability.
With colorful, fractalized textures created through a variety of traditional and improvised glazes and firing techniques, Bodén's sculptures simultaneously reference biomorphic forms and crafted functional objects. Inspired by a place that, despite its remote location and challenging climate, has had human inhabitants for over 6,000 years, Boden's sculptures channel equal parts of the terrestrial, subterranean and spiritual worlds.
Bodén's work is also on view in On the Grounds 2022, which is the second in a series of outdoor installations that present the work of Hudson Valley based artists in the landscape surrounding Al Held's studio complex. Both exhibitions have been curated by RVAC's founder, Alyson Baker, and organized in collaboration with the Al Held Foundation in Boiceville, NY.
Irja Bodén (b. 1960, Kiruna, Sweden) received a B.F.A. in painting from SUNY Potsdam, magna cum laude, and a B.A. in Social Science from Lund University, Sweden. Her work has been featured in solo and group exhibitions in the U.S. and abroad, including The Samuel Dorsky Museum, New Paltz, NY; Woodstock Artist Association & Museum, Woodstock, NY; Amos Eno Gallery, Brooklyn, NY; The Immigrant Artist Biennial 2020; Ely Center of Contemporary Art, New Haven, CT; LABspace, Hillsdale, NY; and Konstmuseet i Norr, Kiruna, Sweden. Most recently, her ceramics were included in ART+NATURE+HOME organized by Upstate Diary at Blue Barn in Stone Ridge, NY and in Ceramics & Collage at the Courthouse Gallery in Lake George, NY. Bodén has been awarded residencies, grants, and fellowships through programs including Byrdcliffe Artist Residency, Woodstock, NY (2022); Mass MoCA Studios (2021); The Berkshire Taconic Foundation, MA (2021); Vermont Studio Center (2017, 2018); and NYSCA Public Art Fellowship (2017). Bodén lives and works in the Hudson Valley.
This exhibition is on view at the Al Held Foundation in Boiceville, NY. The Foundation is not open to the public, however guided private tours of the exhibition are available by appointment.
Tour dates: August 7, August 22, September 6, September 18, October 3, October 11, October 16